Agenda for June 18th, 2015:
5:00 – AGM
6:00 – Break and Registration for Awards Gala
6:30-9:30 – Environmental Awards Gala
Registration is now open!
AGM – No cost to attend (members only)
Awards Gala – $60 + tax (members and non-members)
The Annual General Meeting (AGM) of the Environmental Managers Association (EMA) of BC will be held on Thursday, June 18th, 2015 at the Royal Vancouver Yacht Club (3811 Point Grey Road). The AGM will include an address from president, Mr. Carlos da Ponte, and a financial review will be presented along with the proposed budget, and board elections. AGM information packages will be distributed to member companies in May.
Member companies are encouraged to vote at the AGM.  The EMA of BC invites all members who are interested in making a difference with the EMA of BC to run for election to serve on the Board of Directors.  The board consists of a diverse group of environmental professionals who work collaboratively to fulfill the organization's mission to "encourage education, share knowledge among members and create a forum for environmental management issues".
Email info@emaofbc.com to submit your nomination if you are interested in serving on the board.
Immediately following the AGM we will roll out the green carpet to recognize and honour our environmental managers and their member organizations during the 2015 Environmental Management Awards Gala with dinner, wine, music, dancing, and celebration.
2015 Award Finalists:
Environmental Assessment

Stantec  – Improving Ecological Information through Predictive Modeling
Port Metro Vancouver – Low Level Road Project

Technological Innovation

CARO Analytical Services – Acid Herbicides Analytical Information
Maxxam Analytics – Characterization of Hydrocarbons found in the Arctic Environment near the Ekati Diamond Mine

Organizational Environmental

ALS Environmental – Sustainable Sampling Supply Initiative
City of Surrey – City of Surrey Community Climate Action Strategy
Lafarge – Co-processing at Lafarge's Richmond Plant
Triton Environmental Consultants Ltd. – Estsek' Environmental Services LLP
Port Metro Vancouver – Air Action Program
Vancouver City Savings Credit Union – Vancity's Environmental Sustainability Program
The premiere Emerging Environmental Professional Award will be given to an individual from a member organization in their first 5-8 years in the environmental industry who has demonstrated professional achievement, innovation, experience and leadership, along with community involvement.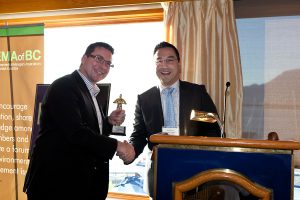 2014 Award Winners – event summary here.

REGULATORY CHALLENGE
Caro Analytics: Siloxanes – Quantifying a New Emergent Pollutant in Water, Air and Soil
EMISSIONS/DISCHARGE CONTROL
FortisBC: FortisBC Renewable Natural Gas Program
REMEDIATION & RESTORATION
Worley Parsons & Shell Canada: Sustainable Remediation Practices at a Gas Well Site
PRESIDENT'S AWARD
West Coast Environmental Law – Received by Jessica Clogg, Executive Director & Senior Counsel
Many sponsorship opportunities are now available. Contact info@emaofbc.com with your sponsorship request.