The EMA of BC was thrilled to host our Annual Awards Gala at the Terminal City Club on June 27, 2023
The celebratory evening began with a champagne reception sponsored by Milestone Environmental Contracting. Attendees enjoyed socializing among the finalist poster presentations while enjoying smooth live jazz performed by the Adam Robert Thomas Duo, sponsored by AGAT Laboratories and Hatfield Consultants.
EMA of BC Executive Director, Pamela O, kicked off the evening's formal programming with some witty welcoming words, followed by EMA of BC President, Bryan Shaw, who congratulated the finalists and thanked the judges. Head Judge, Oana Enick (BC Ministry of Environment and Climate Change Strategy), then introduced the esteemed panel of judges including: Bob Symington (Gandalf Consulting), Dino Rossi (BLG), and Don Bryant (DLB Consulting).
Attendees enjoyed a plated 3-course meal with wine, sponsored by SLR and Triton Environmental Consultants, while the finalists of the Remediation and Restoration, Emissions and Discharge Control, and Regulatory Challenge Awards gave short project presentations preceding the award presentations in each category by the event's Silver Sponsors. Many additional thanks to Lafarge for sponsoring the evening's AV equipment.
Envirogreen Technologies presented Summit Earthworks with the Remediation and Restoration Award for their project Deroche Creek – Emergency Sediment Removal, Erosion Protection and Habitat Restoration. Lawson Lundell LLP presented the Emission and Discharge Award to Conuma Resources for their submission Using Biochemical Reactors to Treat and Remediate Mine Contact Water Reactors to Treat and Remediate Mine Contact Water. BLG presented PGL Environmental Consultants with the Regulatory Challenge award for their submission Phased Closure and Redevelopment of the Ecowaste Landfill.
Following the first three awards, attendees were encouraged to peruse the poster displays, enjoy the desert buffet sponsored by Dillon Consulting, and cast their vote for the 2023 Members' Choice Award.
The ceremony was reconvened and the 2023 Emerging Environmental Professional and Indigenous Project Awards were presented by President Bryan Shaw on behalf of the EMA of BC Board of Directors. A record number of qualified Emerging Environmental Professionals were in contention for the coveted award this year, and it was awarded to Meaghan MacKenzie of Tetra Tech. The 2023 Indigenous Project Award was presented to S.A.Y First Nations for their submission Taking Care of the Land for Future Generations. SAY representatives provided attendees with a brief overview of their work. The final award of the night, Member's Choice was presented by Gala Gold Sponsor QM to Active Earth Engineering for their Regulatory Challenge submission: Beach Road Remediation Project. President Bryan Shaw and VP Marketing Andrea Rivers presented gifts to the judges and offered some closing remarks before adjourning the ceremony, and the delightful Adam Robert Thomas duo played us into the evening.
Thank you to this year's judges, sponsors, finalists, and attendees for a memorable evening! We're already looking forward to 2024!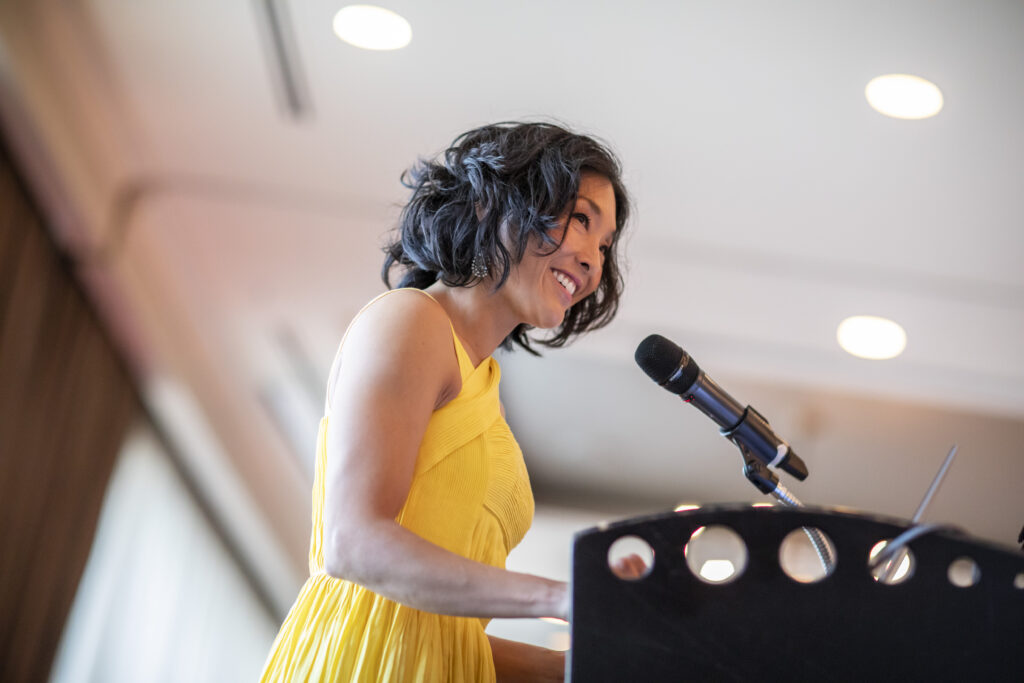 Photos taken by Ben Nelms