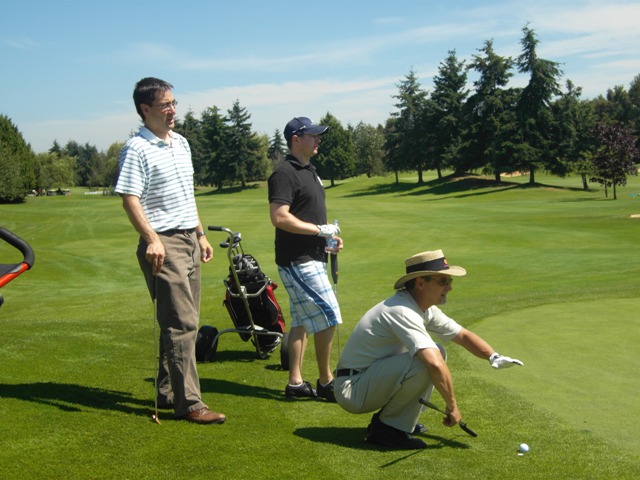 The weather was sunny and hot for the EMA of BC 7th Annual Golf Tournament on July 19th, held at Country Meadows Golf Course in Richmond. Judging by the mood in the clubhouse, everyone had a thoroughly good time. Ten golf teams played Texas Scramble and competed for the Best Overall Score, Longest Drive, and Closest to the Pin prizes. Also awarded, although not really desired, was the prize for Most Honest Team (i.e. the last place team).
At the midway point of the course, after successfully dodging sandhill cranes, golfers were treated to hot dogs and beer. Upon completing the course, everyone mingled and enjoyed a fantastic dinner while a jazz band provided entertainment. The golf awards and door prizes were presented by the always entertaining Don Bryant and were much appreciated by the attendees. The EMA of BC is grateful to this year's event sponsors, without whom the event would not have been possible or nearly as much fun:
Borden Ladner Gervais – dinner upgrade to salmon and steak
Newalta – 10th hole hot dogs and beer, door prizes
AGAT Laboratories – jazz band and drinks
DLB Consulting – golf balls and tees, door prizes
Maxxam Analytics – water and snacks, door prizes
Alexander Holburn Beaudin + Lang LLP – trophies and medals
McCue Environmental Contracting – dinner chocolates
Allnorth Consultants – Closest to the Pin prizes
ALS Environmental – Longest Drive prizes
Tervita – Vancouver Whitecaps tickets mega prize, door prizes
EMA of BC – Best Overall Score and Most Honest Team prizes, door prizes
Several other organizations also provided fabulous door prizes: Hemmera, WorleyParsons, Miller Thomson, and Concept Controls.
Everyone enjoyed the day and we're already looking forward to next year's golf tournament.