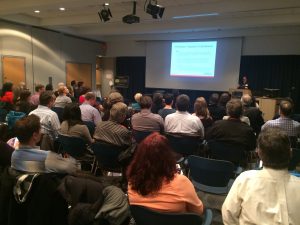 On January 21, 2016 the EMA of BC put on the ever-popular Annual Legal Update, followed by a great social event at Rogue Wetbar. The event attracted over 80 attendees including industry, consultants, government representatives and technical providers. Three speaker sessions engaged the audience covering topics such as notable environmental case law, species at risk, migratory birds, as well as a summary of new and upcoming legislation.
The first presentation was co-led by Dino Rossi and Tim Bottomer of Borden Ladner Gervais LLP, titled Environmental Case Law Update 2016. Recent cases discussed covered topics such as:
Liability of Canadian parent companies operating as subsidiaries in foreign countries;
Consultant liability; and,
Constitutional issues, in particular, provincial and federal environmental assessment jurisdiction.
The EMA of BC was pleased to present the second speaker Janice Walton from Blakes who is a leading practitioner in the federal and provincial regulation of wildlife and, in particular, endangered species. Janice provided for interesting dialogue related to Recent Developments on Species at Risk and Migratory Birds. Notable highlights included:
Developments under the federal Species at Risk Act, including the implications of case law and a recent decision by the new Minister of Environment which may suggest a dramatic change in the way federal government applies protection for federal species on provincial and private lands.

Gord Buck provides legal update.

Recent enforcement of the Migratory Birds Convention Act prohibitions on harming nests or depositing substances deleterious to birds and, in particular, the implications these laws can have for operators on provincial and private land.
The final presenter Gord Buck, from Alexander Holburn Beaudin and Lang LLP, summarized significant regulatory changes over the past year as well as a look ahead with Regulatory Update 2016: New and Upcoming Developments of Note. Key highlights included:
Major upcoming changes to the BC Contaminated Sites Regulation (CSR);
Proposed new BC Ministry of Environment land-based spills regime;
Penalties under the federal Fisheries Act;
Federal updates and changes to WHMIS and Transport of Dangerous Goods Act; and,
Upcoming information related to the provincial Water Sustainability Act, and the Greenhouse Gas Industrial Reporting and Control Act.
Following each speaker, the question and answer period included additional insight for attendees as the speakers provided thoughtful responses and interesting dialogue.
The night was capped off with a well-attended EMA of BC social event at the Rogue Wetbar, a great way to mingle and network with other professionals.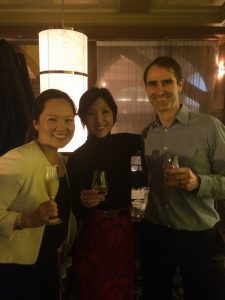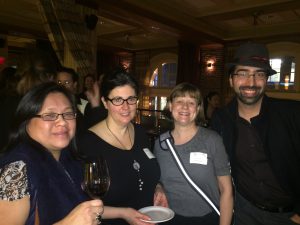 EMA VP & President pose with social goers.