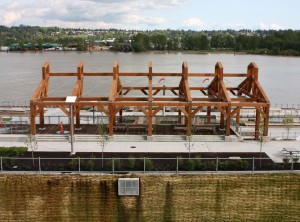 This past April, members of the EMA of BC toured the nearly completed Westminster Pier Park on the waterfront in New Westminster. As one of the keystones in the renewal of the historic New Westminster waterfront, the new park is a 3.2 hectare public space on former industrial lands adjacent to (and on top of) the Fraser River.
With partial funding received as a grant from the federal and provincial governments through the Building Canada Fund, the City of New Westminster turned a derelict pier into an open public space that combines natural and built features, performance space, playgrounds, and other amenities. The City of New Westminster's Director of Engineering, Jim Lowrie, and Manager of Planning, Beverley Grieve, were onsite to provide some history of the challenges faced in building the park and how it fits into a larger urban and waterfront renewal strategy.
Our tour guides, Harald Kullmann and Loris Bertoncello of WorleyParsons Canada (the consulting engineers on the project), explained how the funding agreement for this project required a compressed schedule and created unique challenges that turned the usual site assessment – remediation – planning – construction schedule on its ear. On top of this, the site is about one-third reclaimed land, one-third pier, and one-third water lot, all of which required unique investigation, remediation, and construction approaches due to a long, complex site history.
For example, the reclaimed land portion is at least partially detritus from the Great Fire of 1898, ploughed into the river in the rush to re-build the city. Coupled with over 100 years of mixed industrial and commercial uses ("Imagine what people did when diesel was 5 cents a gallon"), there were environmental challenges at every step.
According to Bertoncello, the biggest lesson learned in managing such a complex project on a limited timeframe was the importance of keeping all of the regulatory agencies informed and engaged. Between the BC Ministry of Environment (MoE), the Fraser River Estuary Management Program, Port Metro Vancouver, and the Department of Fisheries and Oceans, there were many regulatory hurdles to manage and permits to secure. Every potential delay had to be anticipated, as investigation and remediation were occurring concurrently with pile driving and pier design and construction: a less than optimal situation resulting from short funding deadlines. By getting the relevant agencies involved early in the process, and making them understand the proposed end goals, the uncertainties could be better controlled.
When a potentially mobile DNAPL (dense nonaqueous phase liquid) plume was discovered relatively late in investigation, a management and remediation strategy had to be developed in only a few weeks. After evaluating the practicality and risks of various techniques, an innovative approach of a jet-grout wall installation was found to meet the needs, although not without its own technical challenges.
Across the site, combinations of excavation, in-situ remediation, and risk assessment were used to meet MoE requirements, and turn a site with a 120-year history of Contaminated Sites Regulation Schedule 2 activity into an award-winning park. Westminster Pier Park has already been awarded a Brownie Award from the Canadian Urban Institute and a Sustainable Communities Award from the Federation of Canadian Municipalities.
This beautiful park welcomed the public with a grand opening celebration on June 16th, 2012. The EMA of BC thanks WorleyParsons and the City of New Westminster for allowing our members to take a preview tour and to learn about some of the challenges that can accompany brownfield remediation projects.