The Environmental Managers Association of BC held their annual Workshop on February 18, 2016, bringing together members and guests for a full day of discussion and networking on topics related to Foreshore Projects and Considerations in Emergency & Spill Response. This year 25% of our attendees consisted of Environmental Coordinators and Managers from industry, port authorities and all levels of government.
Despite environmental sector uncertainty, attendance consisted of over 90 professionals representing consulting, First Nations, government, industry, environmental laboratories, environmental law, proponents, NGOs and regulators. Workshop discussions revolved around successes and challenges associated with emergency and spill response, foreshore development, changes in EA approvals and socioeconomic considerations.
The EMA of BC was pleased to kick-off the 2016 Workshop with Dr. Richard Wiefelpuett, Executive Director of Clear Seas as the lead speaker for the day. Richard is a marine transportation expert with more than 30 years of global experience, including a recent stint as Associate Dean of the BCIT Marine Campus. Through his opening talk, Richard communicated how Clear Seas is a Vancouver-based independent, not-for-profit organization that provides impartial and evidence-based research to inform the public and policy makers about marine shipping in Canada. This includes risks, mitigation measures and best practices for safe and sustainable marine shipping in balance with environmental, social and economic considerations.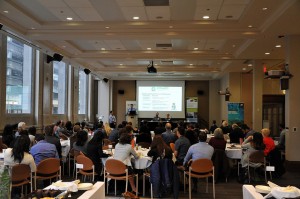 Graham Knox of the B.C. Ministry of Environment ("MOE") gave an update on the MOE's work on creating a 'world-leading' spill regime for B.C. He noted that the MOE review of the current spills regime had identified a number of gaps, and so MOE has been focused on developing a new spills response and preparedness regime which will apply province-wide. The new regime will include: new regulatory requirements for spill prevention, response and recovery; the establishment of a provincially-certified, industry-funded province-wide Preparedness and Response Organization; and continued exploration of industry funding options for the provincial Environmental Emergency Program as well as enhanced planning and response participation by First Nations and local communities. The MOE anticipates that enabling legislation will be passed this year, with full launch in the Spring of 2017.
This led into the first panel discussion of the day "Multi-Jurisdictional Stakeholders: Lessons Learned in English Bay Oil Spill" moderated by Patrick Novak (Past President 2010, EMA of BC) and comprised of Jennifer Mayberry (Manager of Environmental Services, City of Vancouver COV), Jeff Brady (Pollution Response Officer, Canadian Coast Guard CCG) and Michael Lowry (Manager Communications, Western Canada Marine Response Corporation WCMRC). Jeff touched on "When and How" CCG responds to an environmental incident and their powers. CCG lessons learned: 1/ Alerting/Notification with Province (EMBC/MOE) needs improvement; 2/ Lack of a Localized Plan; 3/ Responders had undefined Roles & Responsibilities and 4/ Limited ability to share information externally. Jennifer touched on COV's: 1/ Protection of human health being a key consideration/end point as it related to beach use at a key time of year at the time of the spill; 2/ Importance/value of local experts (VanAquarium); 3/ Value of relationships with other local governments and First Nations and 4/ Weaknesses in their own systems (e.g., SCAT). Michael touched on WCMRC's: 1/ Geographic area of response; 2/ Geographic response planning; 3/ Standard language for public Info; 4/ Darksite and 5/ Involvement in area planning. Graham Knox from the MOE stepped up to join the panel for the end discussion and Q&As.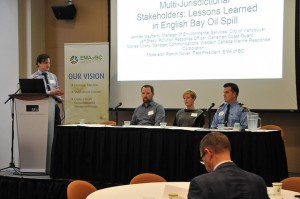 After a short networking break, the morning portion of the Workshop continued with a presentation by David Rogers and David Isaac with First Nations Responders. An Aboriginal owned company specializing in training to First Nations personnel on how to respond effectively and safely to a major oil spill and/or incident to land or waters. They discussed: 1/ Lack of trained people and employment in First Nations young people; 2/ Training is followed by formal certification and is recognized industry wide; 3/ Many new developments will affect First Nations lands, waters and communities; environmental emergencies are often in remote locations and First Nations residents are often closest and stand to lose the most and 4/ Will work with Governmental agencies to harmonize with existing spill response regime requirements.
The last speaker of the morning was David Creber of Dillon Consulting with "Lessons Learned on the East Coast" speaking on ALERT (Atlantic Environmental Response Team). His presentation provided an overview of three oil spill response options for the Bay of Fundy area: 1/ Mechanical – the use of booms and skimmers to recover oil; 2/ In-situ burning – controlled burning on the water at or near the site of a spill and 3/ Dispersants – surfactants that cause the oil to break down into tiny droplets and disperse into the water column. The in-situ burning option identified the types of oil, distances from shore and locations that are acceptable in the Bay of Fundy. For the dispersant study, the oil requirements and Net Environmental Benefits Assessment were reviewed – along with critical limitations on the timeliness and availability of dispersants to react to a spill.
After a break for lunch the afternoon portion of the Workshop began. This year marked the EMA of BC's first Workshop collaboration with GeoEnviroPro. GeoEnviroPro ran afternoon courses for those that registered to attend the morning portion of the Workshop and paid for one or both of their courses – "Fundamentals of Spill Response" and "Clean Enough – Closing Out Response Liability".
Tanya Shanoff (Canadian Coordinator for Emergency Planning and Response, Stantec) kicked off the afternoon with an interesting presentation on Spill Prevention, Preparation, and Response. Some notable highlights: 1/ Emergency response – Proactive vs. Reactive; 2/ Prevention – Sensitivity mapping, modeling, and response planning; 3/ Preparedness – Training, safety, tools & procedures, exercises, and network of contractors; 4/ Response – Tools & procedures ready to implement, display competencies, timeliness of communication both internal and external, data for decision making, demonstrate readiness and expertise and 5/ Restoration – Restore operations, environment and reputation, restoring to functional land use, Net Environmental Benefit Analysis (NEBA), Natural Resource Damage Assessment (NRDA) and clear path to closure.
The afternoon panel "Foreshore Development – Port Focus" included Tara Wight (Sr. Environmental Consultant, Advisian) as panel moderator and comprised of Jack Smith (Director – Environmental Assessment, Prince Rupert Port Authority), David McCormick (Director Public Relations & Public Involvement, Port Alberni Port Authority) and Dr. Paul Mitchell-Banks (Principal, Central Coast Consulting). Those in attendance benefited from a stimulating discussion around: 1/ Some of the current successes and/or challenges with foreshore development projects in BC; 2/ Insight into the challenges that exist today with regards to how the regulatory processes that are currently in place may create barriers or challenges with regards to executing successful communication and feedback platforms and in building strong communication pathways between Port Authorities and Communities and 3/ From both the Port Authorities and community perspective, what is seen as the most challenging or most successful growth today in how communities and stakeholders are being heard and how this feedback is being implemented into projects involving significant foreshore development in BC and how can we improve or build upon this consultation and engagement.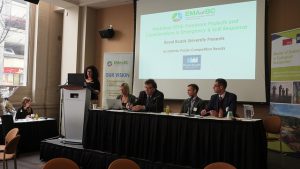 Prior to the last networking break of the day, Dr. Chris Ling with Royal Roads University presented the results of the final phase of judging in the 2nd year of the EMA's Academic Poster Competition. A summary of the winners and finalists is now available.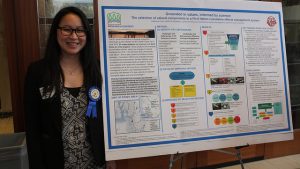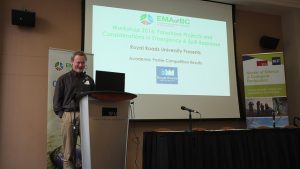 The final portion of the day started with Richard Slocomb of the BC Oil and Gas Commission and Daniel Leonard of Advisian. They presented on the development of a new guidance document for the design of LNG marine terminals. This document applies to the engineering and design of permanent near-shore marine structures that provide structural support to LNG facilities. This document fills a gap where there was previously no specific guidance and is available free of charge on the CSA website.
Daryl Lawes of Seaspan ULC provided an enthusiastic update on current shipyard modernization projects and the environmental and regulatory considerations associated with such an endeavor. As a result of a large order of non-combat vessels in 2011 Seaspan has been upgrading its shipyard in North Vancouver. This project has been an ambitious undertaking with a variety of regulatory guidelines to take into consideration. This has resulted in the generation of a number of jobs in the lower mainland and modern shipyard with a focus on environmental responsibility.
Olga Rivkin of Bull Houser Tupper LLP and Jana McLean of Miller Titerle + Co. LLP gave an informative presentation on Planning and Regulatory Consideration in Development.
To close out the day, Gary Williams – a recognized expert in creating new wetlands for foreshore restoration and foreshore habitat compensation, reviewed highlights of Lower Mainland restoration projects he has been involved in over 30 years. He has been involved in dozens of restoration projects, many of which are visible to users of trail systems along the shores of the tidally influenced Fraser River. Some of these have been built and dedicated by the Port as "habitat banks", intended to provide an extra available source of productive habitat area that can be purchased by foreshore developments that cannot reasonably provide their own on-site compensatory habitat. The full summary for Mr. Williams' presentation can be found here.
The EMA of BC Workshop concluded with over 30+ attendees taking part in a social mixer at the Top of Vancouver Restaurant which provided an opportunity to connect with other professionals and share lessons learned from the workshop. Thanks to Maxxam Analytics for sponsoring this component of the event. The EMA of BC was proud to present such a successful workshop and looks forward to seeing all attendees at our future 2016 events.
The EMA of BC Workshop would not have been possible without the generous sponsorship of our 2016 partners: Simon Fraser University – Faculty of Environment, British Columbia Institute of Technology, Royal Roads University, Advisian, Alexander Holburn Beaudin + Lang, Borden Ladner Gervais, Port Metro Vancouver, Dillon Consulting, Product Care and Tervita.
SAVE THE DATE for the EMA of BC's 2017 Workshop on February 16th, 2017!