The 2017 EMA of BC Annual Workshop was not to be missed! Over 70 attendees gathered for a full day focused on emerging topics in Land, Air and Water Management with a very informative speaker line-up, and plenty of opportunities to network with like-minded professionals.
The event kicked-off in the morning with Christine Rhodes, BC Market Leader, Climate Change and Sustainability Services at E&Y. Christine presented an overview of BC's 2016 Climate Leadership Plan, including touching on national plans, and other province's plans to tackle climate change.
Charlotte Argue, Program Manager with the Fraser Basin Council was next with a very interesting talk on the provincially funded clean energy vehicle program. Charlotte noted that over 20 different PHEV and EV vehicles were available for purchase in Canada right now, and BC has the largest network of electric vehicle charging stations per capita, amazing!
Next up was Anna Henolson, Managing Consultant at Trinity Consultants. Anna briefed the audience on the current and upcoming changes to the Canadian Ambient Air Quality Standards, related to SO2 and NO2 , and a critical look at the implications anticipated on BC and Canadian industries, including how to overcome these challenges.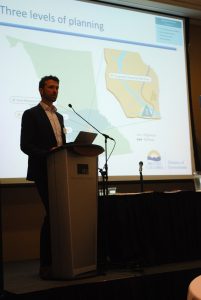 Leon Gaber, Portfolio Lead of BC's new Spill Response Regime at the BC MoE then delivered a much-awaited update on the new 2017 spill regime that is scheduled for imminent implementation. Leon outlined the main priorities of the new regime, including: an effort to improve and incent collaboration, provide the right info at the right time, ensure sectors are prepared for the spill risk inherent to their operations, and to ensure an effective spill response and an appropriate spill recovery across BC.
After lunch the workshop attendees were treated to an interactive marine spill panel moderated by Don Bryant, Executive Director of the EMA of BC, and including speakers Rob Armstrong, Senior Port Captain at Seaspan Marine and Jason Kostyniuk, Partner at AHBL LLP. Rob provided the vessel-owner/operator's perspective on marine spill prevention, preparedness and response, while Jason gave the audience the "nitty gritty" on aspects of the Ship-source Oil Pollution Fund (SOPF).
Next was Melanie Knight, Program Coordinator of Vancouver Fraser Port Authority's Enhancing Cetacean Habitat and Observation (ECHO) Program, who fully entertained the audience with a great talk on how the shipping industry is taking action to mitigate impacts on at-risk whales throughout southern BC coastal waters.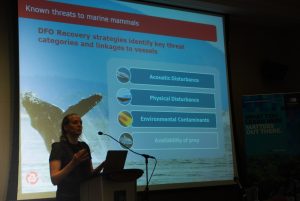 Keeping with the water theme, Olga Rivkin, a Lawyer with Lidstone & Company, then covered recent drinking water issues from long term boil water notices, to contamination of aquifers, to corrosion of pipes, and more. Olga covered some recent drinking water challenges in detail, with an emphasis on the applicable regulatory regime.
The last speakers of the day were focused on land and soil management, and provided a great opportunity for the contaminated sites professionals in attendance to learn about current trends in this space. Kerry Skelly, Senior Contaminated Sites Officer with BC MoE, provided an update on the direction of the new Contaminated Soil Relocation Agreement (CSRA) process currently being revised based on feedback gathered from the MoE's 2016 Intentions Paper on this issue, including a review of how other jurisdictions manage soil relocation. Kerry offered that it is anticipated that a regulatory amendment process could occur in 2018 regarding changes to soil relocation regulations.
Dr. Steve Graham, President, S. Graham Engineering and Geology Inc., complemented the previous speaker with a project example and discussion on the challenges of relocating and remediating soil contaminated by salt in northern BC and with peat soils. He provided a second project example where the salt contamination was a product of marine origin and delved into the many difficulties in disposing of, or relocating, marine sediments in coastal BC and Alaska.
The workshop closed with another great, interactive panel session moderated by Tom Frkovich, Manager, Contaminated Sites at Advisian. The following speakers combined with Kerry Skelly and Dr. Steve Graham to provide an in-depth discussion focusing on soil relocation challenges in BC. The panel covered suggestions of how the process could be improved to address these challenges, particularly while the province is still in the regulatory amendment process. Mike Brotherston, Manager of Climate Action & Environment, Corporation of Delta provided a municipal government perspective and Dr. Susan Ames, Sr. Soil Scientist and Reclamation Specialist provided great technical insight to the panel.
The 2017 EMA of BC Workshop was capped off with a well-attended social event post-workshop at the fantastic Top of Vancouver revolving restaurant. The EMA of BC is thankful to the many supportive Sponsors that contributed to making the 2017 workshop a success, we look forward to seeing you all again in 2018!
Academic Poster Sponsor:
Royal Roads University
Silver Sponsors:
Bordner Ladner Gervais
SLR
Dillon Consulting
Bronze Sponsors:
Tervita
Maxxam Analytics
Stormtec