In the fall, the EMA of BC approached post-secondary schools to encourage their students to participate in the Academic Poster Competition. Students submitted abstracts on environmental issues they were working on. These abstracts were then reviewed by our judges and the top abstracts were asked to present posters at this workshop. We had seven great poster submissions which were evaluated by the judges. Unfortunately this year, two students had to withdraw at the last minute.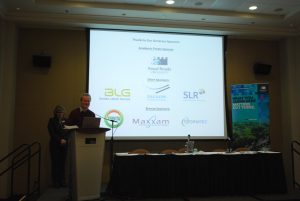 Royal Roads University, sponsored this competition, and Dr. Chris Ling presented the winners.
The winners, receiving $750, $500 and $250 respectively, were:
Honourable mention to:
We thank all of the students for the time and effort put into these presentations. They all discussed their research with enthusiasm and dedication. We wish them well in their future research!
Thanks again to Royal Roads University for sponsoring this competition!