The EMA of BC hosted our 10th annual golf tournament on July 21st, 2016 and to mark the occasion the tournament was moved over to beautiful Mayfair Lakes Golf & Country Club in Richmond. The perfect weather and excellent course conditions led to a lot of happy golfers. The evening was capped off with an excellent West Coast BBQ buffet and live jazz music followed by the prize giveaway and trophy winners.
Congratulations to all the decorated teams and individuals!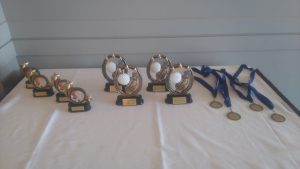 They are:
Tournament Champions
• David Kemp – StormTec
• Leonard Firkus – StormTec
• Dave Bell – PGL Environmental
• Stephen Custeau – Matcon Environmental
Most "Honest" Team
• Dan Boucher – Quantum Murray
• Gerrit Velema – Triton
• Melissa Magnusson – AGAT
• Scott Harcus – Alexander Holburn Beaudin & Lang LLP
Closest to the Pin
• Kim Mohr – Maxxam Analytics
• Stephen Custeau – Matcon Environmental
Longest Drive
• Stacie Kalyn – Dillon Consulting
• Gord Allan – NRI Global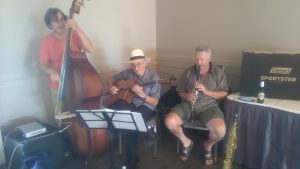 A big THANK YOU to all our generous sponsors:
Wine Sponsor – Next Environmental
10th Hole Lunch Sponsor – Maxxam Analytics
Jazz Band Sponsor – Envirogreen
Single Hole Sponsors – A. Lanfranco & Associates, ALS Environmental, AGAT Laboratories (and foursomes photographer), Alexander Holburn Beaudin + Lang LLP, Environmental Risk Information Services and Quantum Murray.
Prize Donations – Hemmera, StormTec, Dillon Consulting, Tervita, AGAT Laboratories, ALS Environmental & Mayfair Lakes Golf and Country Clug.
We look forward to seeing you out in 2017 for the 11th Annual EMA of BC golf tournament!